Northumberland considers council tax rise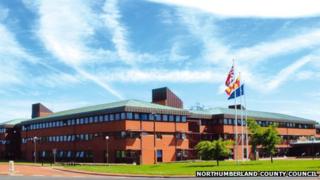 Northumberland County Council is considering raising council tax in an attempt to offset plans for a £44m budget cut over the next two years.
The authority said some savings could be made through efficiencies, such as in IT and use of buildings.
However, it was anticipated there would be cuts in service of about £2.9m.
The council tax rise would be 1.99% over each of two years - which would represent an additional 54 pence a week for a Band D property.
A public consultation began on Wednesday and people have eight weeks to comment on where they feel spending priorities should lie.
'A real challenge'
In addition to budget savings, the authority - which has no over all control but a Labour administration - set out plans for investment in new social housing and the complete rebuild of three schools.
There was also funding towards a scheme to reopen the Ashington, Blyth and Tyne railway line.
Council Leader Grant Davey described setting a budget as "a real challenge".
He said: "Over many months we've been looking very carefully at every area of our business to see how we can reduce expenditure, increase income and make savings while minimising the impact on frontline services, residents and council staff.
"It's important to stress no final decisions have been made, at present these are just proposals.
"That's why it's vital we get residents' views before we make difficult decisions about the budget."