Newcastle University honour for Angela Rippon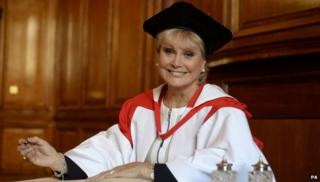 Former newsreader Angela Rippon has received an honorary degree from Newcastle University.
The broadcaster, who famously danced with Morecambe and Wise, was awarded an honorary doctor of civil law degree.
She has recently become an ambassador for the Alzheimer's Society and co-chairs the prime minister's Dementia Friendly Communities Champions Group.
Ms Rippon admitted she had never been to university, but said she was "enormously honoured" to be recognised.
Originally from Plymouth in Devon, Ms Rippon said her late mother Edna suffered from dementia and that she had tried to speak out about the condition to remove some of the fear that exists around it.
'Crash course'
She also praised the work of the university's Institute of Ageing.
She said: "I work for the Alzheimer's Society as a volunteer and the work that they do here in highlighting the importance of recognising dementia and treating it has been ground breaking.
"To know that I am now associated with the university through this doctorate and the work that is being done is enormously gratifying.
"My late mother was diagnosed with vascular dementia and at that point, having no knowledge of dementia, I suddenly had to do a crash course in the condition.
"At that time, and still in certain quarters, dementia is an illness that has a stigma attached to it, people just don't understand it and they're afraid of it."
Prof Louise Robinson, director of the university's Institute of Ageing, said: "It's fantastic that Angela Rippon, who is such a vocal and committed champion of the rights of people with dementia and their carers, has shown her support for our work."