Rothbury landslip damaged road to be repaired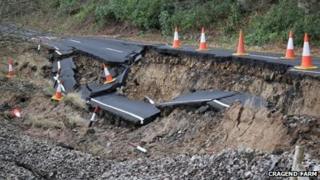 Work to repair a road that has been closed for two years will begin in February, Northumberland County Council has said.
A landslip on Boxing Day 2012 damaged a section of the B6344 at Crag End, Rothbury.
The road was one of the main routes into the town.
The council said the cost of the work would be about £9m - £1.5m more than originally thought, because of drainage work needed to stabilise the site.
The plan is to build a retaining wall alongside the road and to drain the ground to provide long-term stability.
The council is contributing £4m to the scheme, with central government providing the rest.
The work is expected to be completed by October 2015.
Councillor Steven Bridgett, who represents Rothbury and Coquetdale, said: "I understand residents are frustrated about how long this has taken, but the county council is fully committed to this road.
"It has to be a lasting solution on this site as we will not get the opportunity or the funding to do this again."