Durham crowbar deer-death police face disciplinary hearing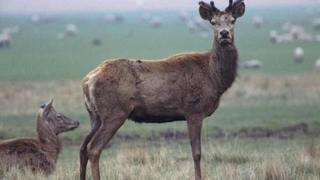 Two police officers who allegedly beat an injured deer to death with a crowbar are to face a disciplinary hearing.
The Durham Police firearms officers had been dispatched to destroy the animal, which was believed to have been hit by a vehicle at Tanfield Lea.
But it is understood that, instead of using a firearm, the officers used a crowbar to kill it.
Andrew Pittilla and Brian Clewlow will face a gross misconduct hearing but will not face any criminal charges.
The incident happened in June and was reported to senior staff by other officers two weeks later.
A police spokesman said: "We have been informed by the CPS of their decision that the two officers will not be charged with criminal offences but should instead be dealt with under police misconduct regulations.
"It is expected a gross misconduct hearing will be held before the end of this calendar year."
The spokesman said the force was confident the regulations would "ensure a considered and fully informed resolution".
The police said it was not unusual for firearms officers to be deployed when a deer or other large animal was clearly suffering after being struck by a vehicle and the best action would be for it to be destroyed humanely.
The two officers were moved to other duties after the allegation was made.