Northern Lights spectacular views in Northumberland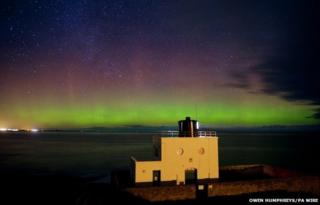 Spectacular views of the Northern Lights were seen in the sky above Northumberland early on Wednesday.
Known as the Aurora Borealis, it is caused by charged particles colliding in the earth's atmosphere and is seen above the northern magnetic pole.
Electrons and protons are blown from the sun's atmosphere towards the earth by solar wind, where they collide with gas particles.
Stunning images were captured in Bamburgh, Northumberland.
The phenomenon takes place near the earth's magnetic poles, where the planet's magnetic field is most prone to interference from solar wind.
The magnetic interaction pushes solar particles into the atmosphere, where they collide with gases.
The lights are seen most frequently in more northerly places, such as Iceland and Norway.
The same phenomenon in the southern hemisphere is known as the Aurora Australis and can often produce images that mirror those of the Northern Lights.