Newcastle rugby-themed new year celebrations enjoyed by thousands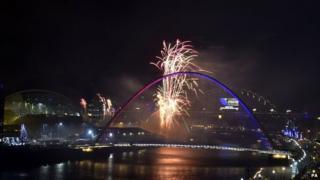 Thousands of revellers crowded in to Newcastle city centre for a rugby-themed New Year's Eve celebration.
The city is one of the venues for the 2015 Rugby World Cup, with St James' Park hosting group games in October.
England head coach Stuart Lancaster switched on a sign promoting the tournament on the Tyne Bridge.
It was part of the Newcastle Winter Carnival which included a parade from the Monument down to the Quayside, where there was a fireworks display.
Mr Lancaster said: "I think it is huge, huge for the region.
"My son plays under-14 rugby and I have been up here with his school team and also his club team and I know how much rugby is part of the community around here - loads of great teams, loads of great school rugby played."