Barbour's Gateshead staff call off strike action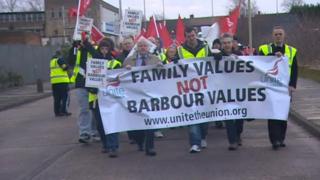 A strike at British clothing giant Barbour has been called off after staff accepted a new deal on pay and shifts.
About 70 members of the Unite union at the firm's Gateshead warehouse began a four-week stoppage on 5 January over proposed new shifts.
But after talks at the conciliation service Acas, staff voted to accept a revised pay offer and flexible working for those with home care commitments.
Staff are to due to return to work on Wednesday.
The company said it was "delighted" the strike had been called off, adding the new two-shift system at the warehouse was vital to cope with an increase in orders.
'Satisfactory outcome'
Brenda Readman-Bell, Barbour's finance and IT director, said: "The industrial action has been difficult for everyone as we have historically enjoyed very good relations with our staff.
"It is essential we have the flexibility to manage the business to the good of our entire workforce and the acceptance of the new deal is indicative of the company's determination to be fair in order to achieve this satisfactory outcome for all."
The new shifts are 07:00 to 15:00 and 14:30 to 22:30.
Unite spokeswoman Fazia Hussain-Brown said: "Following the talks with Acas we put a revised offer to the workforce, which has been accepted.
"We are happy that we have achieved everything we wanted for our members and they will be back at work on Wednesday."