Missing Euan Coulthard: Friends aid search for Durham student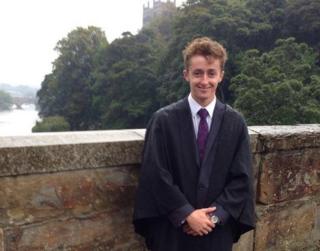 A search is under way for a Durham University student who went missing following a night out in the city.
Law student Euan Coulthard was last seen just after midnight on Wednesday leaving the Love Shack nightclub.
The 19-year-old, from Leicestershire has not responded to texts, or social media messages, which friends said was completely out of character.
Durham Police said there were "serious concerns" for his safety. Some 100 students are helping in the search.
He is described as 5ft 9ins tall, with light brown hair, and when last seen was wearing black skinny jeans, a denim jacket and a beige patterned shirt.
Friend Lee Murray, 18, from Gateshead, described his fellow St Mary's College student as a "lovely lad".
He said: "He's the social secretary of our cricket team and I know it's a cliché but he would genuinely do anything for anyone.
"Everyone just wants him to come back and hopefully we'll find him and he'll be alright.
"There's been over 100 of us out today helping with the search. We just hope he's OK."
Insp Dave Coxon, of Durham Police, said the search was, for the moment, focused on land.
He said: "As far as we know he was in good spirits on Wednesday night and had enjoyed his evening.
"We do know from his phone provider that his mobile was powered down at 12:05am on Thursday.
"CCTV captured Euan eight minutes earlier as he was crossing Framwellgate Bridge after he left his friends in The Love Shack.
"He hasn't responded to attempts to contact him and his phone has not been traced.
"Although we had volunteers searching in canoes, the search today remains on land.
"If we receive any new information we may scale the search back and go into the water."
Prof Simon Harris, of Durham University, added: "Clearly this is a very distressing time and people are very worried.
"We're just hoping there'll be some positive news soon."
This is the third such search in the city in 14 months.
In December 2013 student Sopefoluwa Peters was found drowned in the River Wear after going missing in October, and in May last year, another student, Luke Pearce, also died in the river.
Insp Dave Coxon said: "We have serious concerns for Euan's welfare as there has been no trace of him since the early hours of Thursday.
"He hasn't responded to any attempts to contact him and his phone has not been traced.
"If anyone has seen him since [early Thursday] I would ask them to contact us as soon as possible."