Northumbria Police officer sacked over Nile Ranger rape case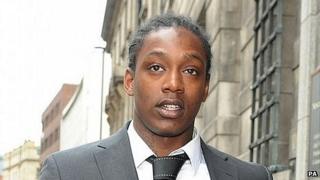 A Northumbria police officer has been sacked and another disciplined over the handling of a rape case involving footballer Nile Ranger.
The two officers were suspended in 2013 for "neglect of duty" after the former Newcastle United striker was arrested.
The internal investigation was delayed until Mr Ranger's rape trial in March in which he was cleared.
The force said when individual officers let the public down "robust" and effective action is taken.
Det Supt Dave Byrne said: "Northumbria Police expects the highest standards of conduct and professionalism from its officers and staff, the vast majority of whom do demonstrate this.
"We have very high expectations of our officers in safeguarding those who are vulnerable. On this occasion our officers failed to do this to the standard that we require of them.
"In this case the relevant officers have been subject to misconduct proceedings, as a result of which one officer has been dismissed from the force and the other has been disciplined".
The 23-year-old, who now plays for Blackpool, was cleared following a week-long trial at Newcastle Crown Court.