Missing Euan Coulthard: Riverbank safety review promised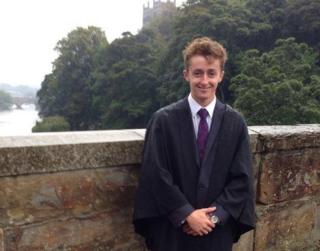 A review of safety along the banks of the River Wear in Durham has been promised as the search resumed for a missing university student.
Euan Coulthard, 19, was last seen in the city centre just after midnight on Wednesday after leaving a nightclub.
He is the third Durham University student to go missing in similar circumstances in the city in 14 months.
Durham County Council pledged the review as a 10,000-name petition called for improved safety in the area.
The law student, from Bottesford in Leicestershire, was captured on CCTV heading towards the river and soon afterwards his mobile phone was powered down.
Friends raised the alarm on Thursday after he had failed to respond to texts and social media messages.
They also launched an online petition calling for repairs to battered paths, more CCTV coverage and for some riverside walkways to be gated at night.
Adrian White, Durham County Council's head of transport and contract services, said: "Our thoughts are very much with Mr Coulthard' s family and friends at what is a really worrying time.
"We will continue to work with our partners at Durham Constabulary and the university to do everything we can to support public safety in the city.
"This will include an assessment of river bank safety in liaison with the other landowners involved."
The search for the St Mary's College student remains focussed on the River Wear, where two other men - one of them a fellow Durham University student - have died in the last 14 months.
In December 2013, Sopefoluwa Peters, 20, was found drowned after going missing in October, and in May last year, 19-year-old Luke Pearce, also died in the river.
Supt Colin Williamson said CCTV images showed a man, believed to be Mr Coulthard, heading down steps towards the river.
He added: "Extensive search activity has been carried out over the weekend and the investigation to find Euan is very much ongoing.
"We have been working closely with our colleagues at fire and rescue and mountain and fell rescue to find him.
"We are also working closely with Durham University and would like to thank the students who have assisted in the search so far."