Benton cashback thefts: Panda onesie-wearing suspect sought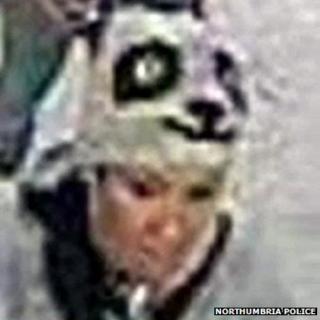 An image of a woman wearing a panda onesie has been released by police investigating a series of cashback thefts from Tyneside stores.
Northumbria Police want to speak to the woman in relation to an incident at an Asda store in Benton, North Tyneside.
She is pictured in the outfit with a panda face on top of her head.
The thefts, from self-service tills which offer cashback to customers, have also been reported in Killingworth and Whitley Bay over the past six months.
Insp Ray Smith said: "Often offences such as this are opportunist, people see the cash lying unattended and they think it's okay to take it. They may not even realise they are committing a crime.
"But it's a theft because that cash belongs to someone else - and it's a crime that does get reported to police and we will investigate.
"People need to recognise they are committing an offence and this could have an impact on their life."