Parents in fight to save 'inadequate' Grindon Hall Christian Free School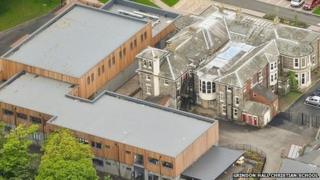 Parents of children at a Wearside free school placed in special measures have held a meeting to plan their next step.
Grindon Hall Christian School, in Sunderland, was deemed to be inadequate by Ofsted inspectors earlier this week.
A day earlier, Durham Free School was told it would lose its government funding after coming under fire.
Now one of its pupils has written to the education secretary begging for it to be kept open.
Inspectors said pupils at Grindon Hall showed a "lack of respect and tolerance towards those who belong to different faiths, cultures or communities".
Ofsted raised concerns over the quality of teaching and staff recruitment. It also concluded some youngsters were not being engaged in the classroom, resulting in them swinging on chairs or doodling.
Speaking before the meeting earlier, parents disagreed with those findings.
'Easily as good'
Dr Lena Wilkinson said: "My children went to a school previously where they had a good Ofsted report. They were bullied and were very unhappy.
"Since they've been in this school they've excelled academically."
Vivienne Simpson said: "I was deputy head teacher at a school in Gateshead consistently rated very good to excellent and I know what it is like to go through an Ofsted inspection.
"I know what they're looking for and this school is easily as good as that one."
On Tuesday, the acting head teacher of Durham Free School said he would appeal against the government decision to end its funding.
It was put in special measures after being rated inadequate "in all areas".
Pupil Naomi Denning, eight, has written to the Education Secretary Nicky Morgan, saying it is an amazing place and invited her to visit "to see what it is really like".
Parents and governors have until 3 February to convince Ms Morgan to save the school.