Durham deer-death officers guilty of gross misconduct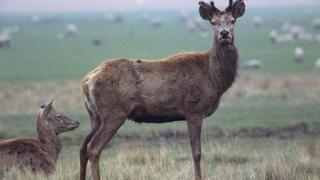 Two police officers who bludgeoned an injured deer to death have been removed from firearms duties after being found guilty of gross misconduct.
PCs Andrew Pittilla and Brian Clewlow were sent to destroy the animal, which was believed to have been hit by a vehicle at Tanfield Lea in June.
They struck the deer several times with a large blunt tool, believed to be a crowbar, rather than using a firearm.
Durham Police said the officers had brought "discredit upon the force".
A misconduct hearing was told that the officers, both of whom have extensive firearms experience, were sent to deal with an injured deer on 9 June.
They remained with the deer, thought to have been hit by traffic, until it managed to stand on "weak legs".
After receiving some advice from an animal welfare expert, they carried the animal into nearby woodland where they hoped it would recover.
'Animal's best interests'
On 11 June police received another report of an adult deer lying on the road and the same officers were sent to the scene.
The hearing accepted they rightly assumed the deer was the same animal as before.
The officers, intending to make sure the deer was dead and not suffering further, struck the animal several times with a large blunt tool.
They said their actions were in the "best interests of the animal" and that neither gained "any satisfaction" from the circumstances.
The panel was "satisfied" the actions of the officers were not "borne from cruelty", although the accepted practice of dispatching the animal with a firearm was not followed.
A police spokesman said: "Durham Constabulary regrets the actions of the officers. Our partnership with the public and its confidence in police actions is paramount to us.
"We expect our officers to adhere to the code of ethics, which defines our legitimacy, at all times."
The officers, who will remain on a final written warning for 18 months, were moved to other duties after the allegation was made.
Durham Police and Crime Commissioner Ron Hogg said the case had caused "disgust and distress".
He said: "The constabulary have dealt with it in an extremely diligent and professional way, and left the two officers in no doubt that their behaviour was unacceptable and unbecoming of a police officer.
"Due to one act of stupidity, they have gone from having long, clean and commended records to being on their final warning - and stripped of their firearms responsibilities."