Cheryl Fernandez-Versini launches Prince's Trust centre £2m bid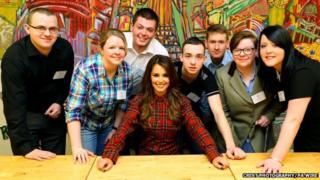 Singer and X-Factor judge Cheryl Fernandez-Versini said she will ask Simon Cowell for help to fund a £2m centre for disadvantaged youngsters in her native Newcastle.
The singer said she hopes to raise funds for a new Prince's Trust centre to help 4,000 young people.
She launched the fundraising campaign while visiting the charity's current centre in the city.
It is a joint project with her own foundation Cheryl's Trust.
Mrs Fernandez-Versini, 31, said: "This is a special place in my heart, for various reasons. When I think about it I could have had a very different life.
"I could have been one of the people (using the centre) and I was very fortunate to have even a career for this long.
"I have some very exciting fundraising events coming up and Simon is going to be asked, you can bet your bottom dollar on that one.
"I'll let you know if he does or if he doesn't."
The new centre would look to support vulnerable young people and include a new music studio and a digital media hub.
Martina Milburn, chief executive of The Prince's Trust, said: "I am truly inspired by Cheryl's passion and determination to help young people who are the most disengaged from society, especially those who are battling drug and alcohol addiction.
"The centre will change thousands of lives each year."