Durham and Cleveland mobile phone-using drivers targeted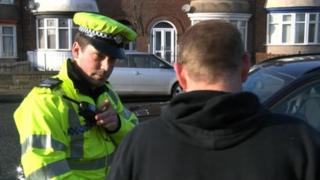 A crackdown on drivers using mobile phones at the wheel has been launched in Durham and Cleveland.
Police forces said the campaign was intended to "educate drivers and robustly enforce the law".
Last year, they issued 891 fixed penalty tickets for the offence, which attracts a £100 fine and three penalty points.
Mobile phone-use reduces reaction time by up to 50%, "significantly" more than by drug or alcohol use, police said.
'Ignore it'
The latest police accident records available suggest that between 2007 and 2012, there were at least 480 serious crashes related to mobile phone use.
"Mobile phone usage causes a lot of serious and fatality road traffic collisions," said Sgt Kevin Salter.
"Despite warnings and advertisements and media campaigns people just tend to ignore it."
If a case goes to court the offender can be disqualified from driving and get a maximum fine of £1,000. Drivers of buses or goods vehicles could face paying £2,500.
Last year, 51 penalty tickets were also issued to in the area, for people considered not to be in proper control of their vehicle, like those eating, drinking or applying make-up while driving.