Euan Coulthard search: Body found by diver who had travelled 170 miles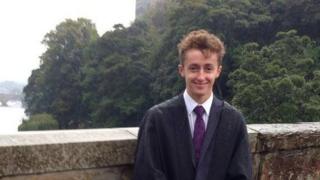 The body of a missing student was found in the River Wear at Durham by a diver who had travelled 170 miles from Scotland.
Law student Euan Coulthard, 19, from Bottesford, Leicestershire, went missing on a night out, resulting in a search operation lasting over a week.
Trevor Bankhead said he wanted to help bring closure to the family.
Police said they had been advised it was not safe to deploy divers because of bad weather.
Mr Bankhead, a commercial diver who is from the Durham area, has made more than 500 dives in the river.
'Take you home'
The 45-year-old, who works on the west coast of Scotland, said: "At about 9am [on Friday] I went into the water and I had only been down for about 30-40 seconds when I found him.
"I was shocked that I found him so quickly even though I had prepared myself mentally for finding a dead body.
"I had to take a moment because I got choked up in the water and then I said to him 'I have come to take you home my friend'.
"I got out the water and asked a lady nearby to use her phone and then rang 999. It was such a sad day, everyone knew what was going on and I'll never forget it as long as I live.
"I thought I could help out and now thankfully he's back with his mother."
Supt Colin Williamson, of Durham Police, said: "A decision was taken at an early stage by the police search advisor, based on guidance from agencies including the Environment Agency that the condition of the river would have made it unsafe for divers to enter.
"However, extensive searches were carried out on the water by members of the Weardale and Teesdale Search and Rescue Team, as well as County Durham and Darlington Fire and Rescue, who used a pole-mounted camera to transmit images from below the surface."
The body has been formally identified as being Mr Coulthard. The coroner is expected to arrange for an inquest to open, probably later this week.