HMP Northumberland: Safety deteriorated, inspectors say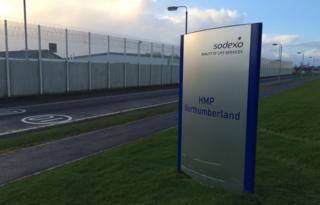 An under-fire prison in north-east England has seen a deterioration in safety, inspectors have found.
A report into HMP Northumberland in Acklington said violence was high and some prisoners did not feel safe.
The category C jail, which was privatised at the end of 2013, has been criticised over staff cuts and safety concerns in the last year.
Sodexo, which runs the prison, said it had undergone an "enormous transition" but had made progress.
Inspectors, who visited in September, judged the prison on safety, respect, purposeful activity and resettlement of prisoners.
They found the prison "not sufficiently good" in all areas except respect, which was "reasonably good".
The report said violent incidents were high and prisoners felt less safe than at other prisons.
Critics have attacked the jail in the last year after staff cuts of more than a third and a series of assaults and disturbances.
---
HMP Northumberland
Robert Cooper, BBC News Online
The large site, which sits amid miles of countryside, is a former RAF airfield.
When I visited, the atmosphere seemed relaxed in one of the blocks where an experienced officer chatted with prisoners.
Sodexo has hired 27 new officers since the initial layoffs. One told me it was his first job since leaving school.
In an old hangar, the outgoing director Matt Spencer showed me what was now the prison's engineering workshop.
Here, he said, prisoners were now making machine parts for Nissan's Sunderland factory - part of a drive to increase prisoner working hours.
Sodexo said its priorities are to continue that drive and focus on improving safety.
---
There have been three suicides since the previous inspection in 2012, the report said, but it praised support for prisoners "in crisis".
Inspectors also praised healthcare and support for drug users.
The report said prisoners were not involved in enough purposeful activity, but Sodexo said prisoner working hours were up by two fifths in the last year.
The prison was formed from a merger of two prisons in 2011 and was privatised two years later.
The chief inspector of prisons, Nick Hardwick, said it was a "fairly critical report" because safety had declined and other areas had yet to improve.
A Sodexo spokesperson said it had developed an "action plan" to address the issues raised and that its "key focus" was on improving safety.