River Wear-plunge student treated for hypothermia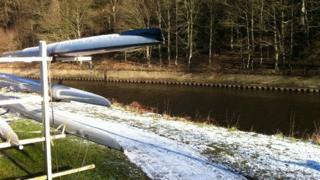 A student was treated for hypothermia after being rescued from a river in which three undergraduates have drowned in just over a year.
Police and fire officers formed a human chain to pull the 20-year-old man from the River Wear in Durham at 01:45 GMT.
It came a week after the body of 19-year-old law student Euan Coulthard was discovered in the river.
Durham undergraduates Sope Peters and Luke Pearce also drowned in the Wear following nights out.
The latest incident saw a passer-by raise the alarm after spotting the man, who is from Northern Ireland, in the water near Durham Amateur Rowing Club.
He has been released from hospital and is being questioned by police.
Terry Collins, chairman of the City Safety Group, said: "As a group we are determined to do everything possible to make our city a safe place to enjoy a night out but instances like this remind us that drinking sensibly and not walking home alone are two simple steps that can make a huge difference to personal safety."
Mr Coulthard, from Bottesford, Leicestershire, was reported missing on 15 January after he failed to return home following a night out.
Durham Police said there was nothing suspicious about his death and an inquest has opened.
A riverside review was announced on Wednesday by the City Safety Group.
Made up of the county council, the university, the students' union, the police and the cathedral in Durham, the group said it would attempt to re-establish the night-time bus and set up a high-visibility welfare unit.
It also said it would explore measures to tackle the availability of cheap alcohol and develop an arrangement with taxi operators to allow at-risk students a safe method of getting home.