Hadrian's Wall discovery centre gets £7.8m lottery boost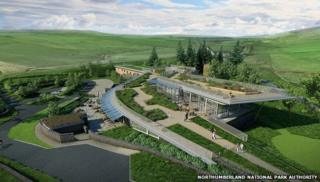 Plans for what is being billed as England's first landscape discovery centre have received a £7.8m boost from the Heritage Lottery Fund.
The £11m Northumberland National Park project, called Sill, will be based on Hadrian's Wall near Hexham.
It will create up to 100 new jobs and feature educational and research facilities, as well as a youth hostel.
The centre, due to be completed in the summer of 2017, is expected to attract 100,000 visitors each year.
The designs have been created to be sympathetic to the surrounding landscape and the building will use sustainable energy such as solar thermal water heating and woodchip heating.
'Unquestionable beauty'
Tony Gates, chief executive of the national park authority, said: "The great outdoors is important to people, it enriches our lives, it makes us feel alive.
"Sill will help people from all walks of life explore and learn about one of Britain's finest landscapes."
Ivor Crowther, head of Heritage Lottery Fund in the North East, said: "With the famous Hadrian's Wall and much more besides on the doorstep, this new state-of-the-art discovery centre will become the perfect base from which to explore the national park's unquestionable beauty.
"The fund's investment will support a year-round programme of exhibitions and activities that will ensure that visitors are tempted back to Northumberland again and again, providing a much-needed boost to the local economy."
Grant Davey, leader of Northumberland County Council, said: "Its great news for the whole of Northumberland and means 100 new jobs will be created.
"The economic and community benefits will be transformational through providing new training, skills, business growth and volunteering opportunities."