South Shields bar drops 'dress like Savile' night poster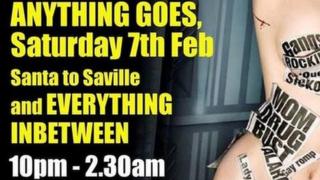 A bar that advertised a night encouraging people to dress like Jimmy Savile has come under fire for its "extremely offensive" promotion.
Life of Riley in South Shields promoted the fancy dress event on Facebook with the slogan: "Anything goes, Santa to Saville and everything inbetween".
The poster was removed from the site on Thursday.
An apology on the bar's Facebook page said: "Last poster was a bad error judgement. We are deeply sorry."
'Wholly irresponsible'
An NSPCC spokesman said: "People need to consider the impact that making light of Savile's crimes has on survivors of sexual abuse.
"Living with the effects of these crimes can be a daily struggle, and insensitive and inappropriate promotions like this will only make it harder."
Colin Shevills, director of alcohol awareness group Balance North East, was also highly critical of the promotion.
"This poster is appalling and sends out a multitude of inappropriate messages to young people." he said.
"The images and the wording used are extremely offensive and are juxtaposed with offers of cheap alcohol, which we know makes people more vulnerable.
"It is yet another example of wholly irresponsible marketing."
A Northumbria Police spokesman said: "We are aware of the event and officers from South Tyneside have spoken with the local licensing authority and the organisers and the poster has been withdrawn."
The night is still going ahead as Fancy Dress February.
Since allegations of sexual abuse involving Savile came to light in 2012, reports have found the BBC radio DJ and television presenter subjected patients in hospitals across the country to "truly awful" sexual abuse for decades.