Borneo student killings: Judge orders accused to face trial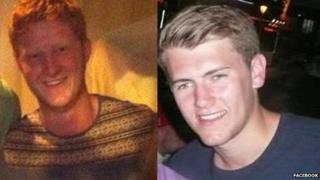 A high court judge in Malaysia has ordered a full trial to take place of a man accused of killing two British medical students.
Newcastle University students Aidan Brunger and Neil Dalton, both 22, were stabbed in a bar in Kuching in August.
Mr Dalton, from Derbyshire, and Mr Brunger, from Kent, had almost completed a work placement at a hospital in Kuching.
The trial of Zulkipli Abdullah, 24, is due begin early next Month.
The BBC's Malaysia correspondent Jennifer Pak said: "Over the last few months, the prosecution has tried to prove that Zulkipli Abdullah stabbed the students to death following an argument at the bar last August.
"Mr Zulkipli has pleaded not guilty. However, his lawyer Anthony Tai said the judge found that the prosecution has established 'prima facie' evidence that Mr Zulkipli was involved in the deaths.
"He will present Mr Zulkipli's defence in March."
The students were found sprawled in the road by cafe workers in the early hours of 6 August last year.