River Wear safety calls after Durham student deaths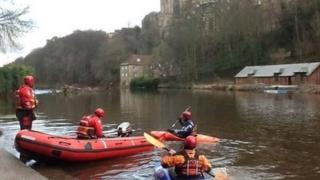 A safety group aiming to prevent further student deaths in the River Wear in Durham has come up with a number of recommendations.
Sope Peters drowned in October 2013, Luke Pearce in May 2014, and Euan Coulthard died in January. All had been out drinking in the city centre.
Representatives from the council, police, university and students' union, have been discussing safety plans.
These include enhanced training for staff of licensed premises.
The Durham City Safety Group is also calling for a link with four local taxi firms to get vulnerable drinkers home even if they do not have the obvious means to pay.
Also considered are a breathalyser scheme on the doors of clubs to avoid drunk people getting in, and a guardianship scheme so those who are excluded can be escorted home by volunteers.