Alan Barnes attack: Man appears in court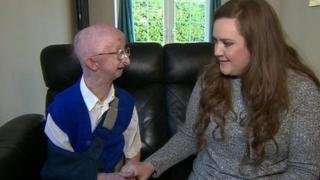 A 25-year-old man has appeared in court charged with assaulting disabled pensioner Alan Barnes.
Mr Barnes, 67, suffered a broken collarbone when he was knocked to the ground outside his Gateshead home on 25 January.
An online fundraising campaign set up on his behalf raised £330,135.
Richard Gatiss, of Gateshead, is charged with assault with intent to rob and was remanded in custody when he appeared before town magistrates.
He will appear before Newcastle Crown Court on the 24 February.
Moved by Mr Barnes's plight, an online appeal to raise £500 was set up by beautician Katie Cutler and donations were received from across the globe
Mr Barnes lived with disabilities from birth, after his mother contracted German measles when she was pregnant.
He will be presented with a cheque later this week.