Newcastle United collection sells for £25,000 at auction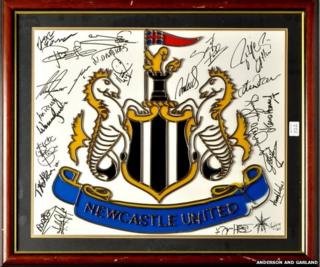 Newcastle United memorabilia including signed shirts and two gold medals fetched £25,000 at auction.
Auctioneers Anderson and Garland said the collection, some of which had belonged to the club's late director Robert McKenzie, sold for more than expected.
An anonymous international bidder paid £3,800 for the 1924 FA Cup final and 1911 Northumberland Hospital Football Competition medals.
Programmes and photographs also sold.
Churchill letter
One collection of about 2,000 photographs showing life at Newcastle United sold for £8,300.
Also part of the sale were old brewery items including rare original Guinness showcards designed by Tyneside-born artist John Thomas Young Gilroy which fetched £5,000.
A scrapbook containing a typed letter dictated by Winston Churchill on board the SS Queen Mary sold for £200.
The scrapbook contained a collection of pictures, newspaper clippings and letters put together by wartime Wren Janet Heaton during her two voyages to New York on the ship in 1944 and 1945.