Cleadon Hills Exmoor ponies begin grazing trial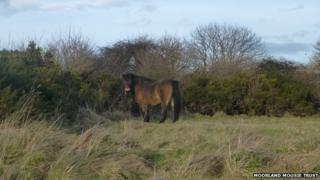 A conservation grazing trial using Exmoor ponies has begun at a nature reserve in South Tyneside.
The three ponies have started their new life on Cleadon Hills after a grazing trial was approved by cabinet members.
However, the move has been criticised by some local residents who are worried about the welfare of the animals.
A spokesman for The Moorland Mousie Trust, who have loaned the ponies, said she "struggled" to understand the "adverse reaction" to their arrival.
Exmoor ponies have been chosen because they are hardy, can thrive on difficult terrain and can eat varied plant life.
Ahead of their arrival on Tuesday, a water supply, kissing-gates and fencing were installed.
South Tyneside Council said it was a "more effective" method of cutting grass and it had a "duty" to "preserve and protect" the site for the future.
'Rare grazing'
Councillor Tracey Dixon said: "It will not only help to improve the quality of the grassland but produces a more diverse environmental result, which is better for flora, fauna and wildlife. This is how the land used to be looked after.
"Cleadon Hills is a popular site and we believe that the addition of the ponies will enhance the natural beauty of the area."
The scheme is running on a trial basis until 2016 and the welfare of the horses, dog walkers and other users of Cleadon Hills will be monitored.
The council said it would consider how the site was managed "in the longer term" following the trial.
The trust said it was short of sites for the animals and Cleadon Hills, which is a Site of Special Scientific Interest, was an ideal choice.
Chair Juliet Rogers said: "It is the most beautiful site and for us it's win win - rare ponies grazing on a rare site.
"By taking a chance we hope more people will love the ponies rather than hate them."