Durham University river deaths: Students launch safety patrols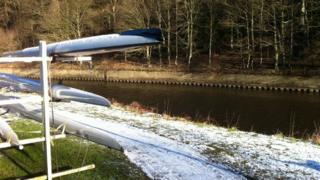 Up to 50 Durham University students are taking up roles as volunteer wardens in an effort to prevent further student deaths in the River Wear.
It comes after Sope Peters drowned in October 2013, Luke Pearce died in May 2014, and Euan Coulthard was found dead in January. All had been out drinking.
The volunteers, who have received basic life-saving and alcohol awareness training, will identify people at risk.
They will be equipped with radios, first-aid kits, water and blankets.
Providing a team of volunteers was proposed by a safety group set up in the wake of the tragedies and made up of students, council officials and the emergency services.
The pilot scheme will see volunteers cover different parts of the city for the next three Wednesdays - traditionally a busy night for students in the city.
Terry Collins, chair of the City Safety Group, said: "This is one of a wide-ranging number of initiatives and schemes the group will oversee in response to concerns about safety in the city.
"I am particularly pleased at the fantastic response to this initiative from the students themselves. More than 200 expressed an interest in getting involved."
Laura Carter, community officer at Durham Students' Union, added: "The support among students for this has been outstanding, many students have signed up to be part of this worthwhile initiative to do what they can to help others.
"The presence of volunteers will undoubtedly reinforce the message about the importance of staying safe on nights out."