Durham dog breeder Stephen Potts denies blame for attack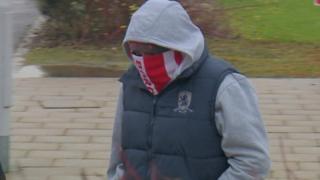 A bulldog breeder who lost an arm when his pets turned on him has denied owning dangerously out of control dogs.
Stephen Potts, of Low Pittington, Durham, faces charges relating to a separate incident which saw a 63-year-old man attacked on 21 October.
At Durham Court, the 48-year-old denied all seven charges as did his co-accused, Patricia Ayre, 66, from Sedgefield.
A two-day trial was set for 16 June and both defendants were granted bail.
The charges relate to Potts's pets Buster, Frosty, Tara, Gypsy, Bessie, Blue and Tammy.
It is alleged they attacked another dog walker, Lindsay Edwards, at Belmont.
Prosecutor Shaun Dryden said he understood the defence would claim it was Mr Edwards's dog, Zoma, that was out of control.
The incident happened a day after Mr Potts had been released from a stay in hospital after he had been injured by two of his American Bulldogs.
Those animals were later destroyed.