World War Two bomb exploded off Whitley Bay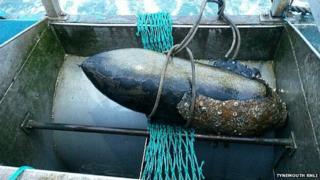 A World War Two bomb containing hundreds of pounds of high explosive has been detonated off the North East coast after being caught by a trawler.
The bomb, thought to have been jettisoned at sea by an RAF bomber, became caught in the nets of the North Shields-based vessel on Wednesday.
A lifeboat crew recovered the shell, which contained 286lbs (130kg) of high explosive, and alerted the Royal Navy.
A bomb disposal crew exploded the the device 18 miles out at sea.
An RNLI spokesman said: "On Wednesday the skipper of the North Shields-based Ticino radioed Humber Coastguard to say that they had hauled up a large bomb approximately three miles off South Shields.
"The bomb was deemed safe enough to be moved and the lifeboat met the Ticino, placing a crewman on board, then escorted the vessel to a point off Whitley Bay and marked with a bouy.
"Today, the bomb disposal team determined it contained 286 lbs of high explosive.
"The team then set charges on it, detonating it after the Coastguard had established a one mile exclusion zone."