'Dog' objects to South Charlton wind turbine plan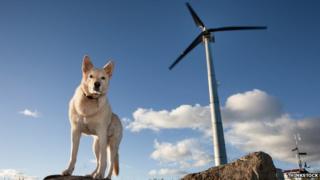 An objector claiming to be a dog has commented on plans for a wind turbine in Northumberland.
Northumberland County Council is considering an application for a single 100m turbine east of South Charlton, near the A1 north of Alnwick.
The authority has so far received 17 letters of support and 81 objections.
One opponent, claiming to be a dog called Lord Percy Norfolk, called the proposed turbine "yet another gigantic lamp-post", making him "barking mad".
In comments submitted to the council online, the writer said he felt "like biting the ankles of anyone associated with it".
Spokesman for the applicant, Ian Brown, said it was "fairly amusing".
But he said he was surprised the comment had been allowed to stay on the council's planning web pages and "quite shocked" it had appeared with committee agenda papers.
Other objectors include Northumberland Estates, which points out the area is "already affected by the turbines at Middlemoor and Wandylaw".
The Northumberland and Newcastle Society said insufficient notice had been taken of the fact the site was in an Area of Outstanding Natural Beauty.
A decision on the application has been deferred.