Chester-le-Street swan deaths: Fears for colony's future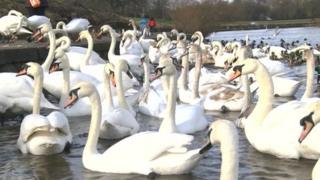 Animal welfare workers fear one of County Durham's largest colonies of swans could be wiped out after a spate of deliberate poisonings.
The group of about 130 swans and cygnets on the River Wear at Chester-le-Street has been reduced to less than 80 since Christmas.
Post-mortem examinations have revealed all the dead birds were poisoned with lead - probably in powder form.
One theory is that bread laced with lead powder is being fed to the birds.
Linda Charlton, of the Swans Trust, said: "All the tests have shown the dead birds had lead poisoning, but the ducks and fish have not been affected.
"The Environment Agency have also done their own tests on the water and they have come back clear.
"I've been working with swans for 20 years and I've never seen deaths like this on this scale before.
"We have to reluctantly accept that this is deliberate poisoning and the swans are being targeted."
A number of ill birds - some of which have gone blind - are still being treated by vets.
Vet Laura Petts said: "We are giving the ill birds medicine to help them excrete the heavy toxins in their bodies, but we fear some will have to be put down."
RSPCA inspector Jaqui Miller added: "We are working closely with the police to try and discover exactly what's happening.
"Patrols in the area have been increased in the hope whoever is doing this will stop or we catch those responsible."