Tynemouth seal pups released back into the wild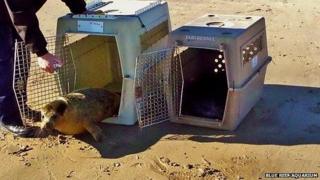 Two grey seal pups found "dangerously dehydrated and underweight" have been released back into the wild.
One of the young males weighed just 1st 10lb (11kg) and the other 2st 5lb (15kg) when they were found on the Northumberland Coast in January.
Both have now more than doubled in weight after being cared for by volunteers at Tynemouth Blue Reef Aquarium.
A healthy seal pup is supposed to weigh 3st (2lb) 20kg after 14 days.
The aquarium's Caitlin Shields said: "It's an amazing feeling when you watch the pups return to the wild.
"They took a couple of seconds to adjust to their surroundings after being released out of the kennels and then went straight into the water.
"One of the pups even started playing with some seaweed before swimming off.
"If they had not been rescued when they were then both of them would have almost certainly died."
More than 220 seals have been treated at the aquarium in the last 12 years .