McDonald's appeals over restaurant near Kenton School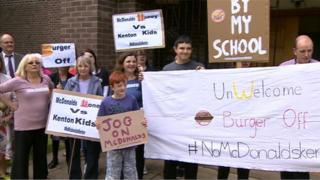 Fast food chain McDonald's is appealing against a decision to reject plans for a restaurant near a Newcastle school.
Hundreds of people raised objections with some fearing it would encourage unhealthy eating among children at Kenton School.
Newcastle city councillors rejected the proposal in September, despite planning officers recommending approval.
A McDonald's spokeswoman said the outlet would create more than 75 jobs and bring "positive investment".
"We recognise there are concerns from some members of the local community and we hope to work with them going forward and prove the positive impact we can have on the local economy," she said.
Nearly 600 people signed online petitions against the plan, 221 formal objections were submitted to the council and three schools, including Kenton, wrote in opposition.
Six people signed a petition in favour of the restaurant, which was to be built on the site of a former pub.