Northumberland academy to help children from birth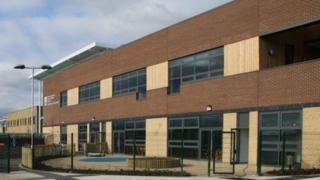 A school is launching a childminding agency to help tackle the problem of new pupils being unable to speak properly or not being toilet-trained.
The Northumberland Church of England Academy will help match childminders and babies across Ashington, Lynemouth and Newbiggin-by-the-Sea.
Children will then join the academy, where they can stay until aged 19.
Chief executive Andrew Day said half of its new pupils currently have "speech and language acquisition issues".
The academy is believed to be the second in the country, after St Bede Academy in Bolton, to offer the Ofsted-approved government scheme.
Childminding agencies, first trialled in 2013, are intended to help self-employed childminders, who usually operate from home, with training and business advice and to match them with parents.
'From cradle to university'
"You want people to take an interest in the children, you want them to read to them, you want them to speak to them," Mr Day said.
"They want to be engaged and, the quicker we can engage them, the easier it is to moderate some of the issues we might find later on."
He said the scheme would provide parents with the opportunity of taking advantage of a "safe, secure Church of England ethos to childminding".
Babies will be looked after by childminders, who will be "very carefully selected and approved" by the agency and who will be trained and supported by the school throughout the care period.
Childminding for children under two will be paid for by parents. Older pre-school children will have some costs covered by the government.
Last year, the academy started accepting children from the age of two and hopes to extend its educational offer from "cradle to university".
"What we want children to do is to have the best possible start in life," Mr Day said.