Tyneside men given genome project's first diagnosis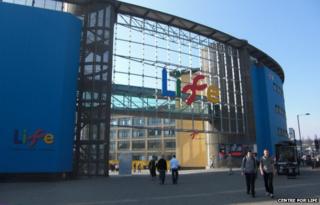 Three men from Tyneside are the first to be diagnosed with rare diseases after volunteering to have their complete genetic codes mapped as part of a landmark government project.
The trio are among about 75,000 people recruited to the Genomics England project.
They will now be eligible for treatment to target their genetic defects or help descendants and relatives.
One of the men, William Carpenter, 79, said he wanted to help his family.
"There is no particular cure for my illness. However, I wanted to be part of the 100,000 Genomes Project as it will help future generations in the long-term," he said.
The Genome Project involves determining the sequence of 100,000 individuals' genes in order to help fight genetic diseases.
'Important project'
Mr Carpenter and his brother Alan, 72, have been diagnosed with an inherited nerve disease discovered by scientists on the project, which is partly based at Newcastle's Centre for Life.
The siblings, both from North Shields, will take part in a treatment trial which, if successful, could prevent other members of their family developing the same condition.
The third man, Leslie Hedley, from Fenham, has a history of high blood pressure and kidney failure.
His father, brother and uncle all died from the same condition and his daughter Terri Parker is showing early signs of kidney damage.
The 57-year-old said: "I was keen to take part in the project as I felt it was important to try and find out as much as possible about my condition for my daughter and granddaughter."
The government has invested about £100m in the project, which is due to run for three years.