Tyne pedestrian tunnel revamp delayed as builders go bust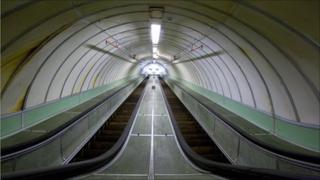 A £7.1m revamp of the Tyne pedestrian and cycle tunnel has been delayed for a third time after the contractors went into administration.
The tunnel, which connects Howdon and Jarrow, closed in May 2013.
It was expected to be shut for a year, but reopening was set back after high levels of asbestos were discovered.
Now GB Building Solutions has gone into administration with the loss of 350 jobs, leaving the refurbishment at another temporary standstill.
The North East Combined Authority, which looks after the tunnel, said it was "very sorry" to hear the company had gone into administration.
A spokesman said: "We are currently assessing what contractual arrangements we have in place to ensure that the work is completed.
"The project has been delayed following a number of issues and is now expected to be completed between the end of 2015 and the start of 2016."
The Grade II-listed structure, which opened in 1951, is used for about 20,000 journeys each month.
One of the features of the refurbishment will be the replacement of two of the original wooden-step escalators with inclined lifts.
A free shuttle bus is in operation during the closure.