Police break up Team Valley 250-strong car meet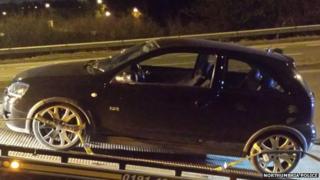 Police have broken up an unauthorised meet of 250 modified cars at a Tyneside shopping park.
Officers were sent to Team Valley retail park over reports of people driving dangerously.
They seized one car for having undisclosed modifications and arrested and charged another man for driving over the alcohol limit.
Northumbria Police said large groups are allowed to meet so long as it is done safely.
'Right to meet'
The force sent officers from its Operation Dragoon team that targets dangerous drivers.
Police said the majority were not causing trouble, but three drivers were issued warnings for careless driving, three more were referred to awareness courses and another was reported for insurance fraud.
Ch Insp John Heckels said: "We are trying to work with modified car enthusiasts in our area and we have no problem with groups of friends gathering in their cars.
"People have a right to do this and as long as it doesn't lead to disorder, anti social behaviour or reckless driving then we will try to support and facilitate this where we can."