Ellie Crossley named first female Chillingham Cattle warden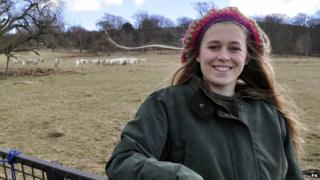 The first female warden has been appointed to help ensure the survival of a rare breed of wild cattle considered to be dangerous.
Ellie Crossley, will look after Wild Chillingham Cattle, which have lived for more than 800 years in an enclosed space near Wooler in Northumberland.
The herd of 100 are not domesticated and are under the protection of the Wild Cattle Association.
Her role includes providing tours for the park's 5,000 visitors a year.
Ms Crossley, 24, and originally from Dorset, said she was delighted to be taking up her new job, despite the hazards of working with the unpredictable animals.
'Risky job'
"In your day-to-day work you have to be very conscious of them as they are so unpredictable. They are amazing, it is wonderful to see the new calves born and take their place in the structure of the herd," she said.
Ms Crossley, who studied a countryside management diploma at Dorchester's Kingston Maurward College, added: "Theirs is a completely natural environment at the park and the cattle fend for themselves. We give them hay in the winter when the grazing runs out but that is all the intervention there is."
Chris Leyland, park manager, said: "This is an interesting and potentially risky job, and one which I know Ellie has the necessary skills, experience and knowledge to deal with."
Records of the breed go back to the 17th Century, but there is evidence that the herd was enclosed in its park in at least the 1300s.
In case of disaster, a reserve 20 animals is kept in north east Scotland after the herd was reduced to just 13 in the hard winter of 1946-47.