Gateshead 'Mephedrone' alert: Boy, 15, remains in hospital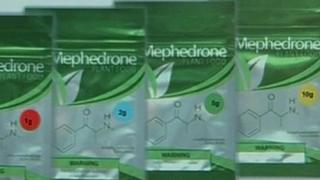 A 15-year-old Tyneside boy remains in hospital after taking what are believed to be illegal drugs.
He was one of 12 people from Gateshead taken to hospital over the weekend after having an adverse reaction to what police believe was Mephedrone.
Officers responded the three incidents on Saturday and Sunday which are believed to be linked to the same drug.
Six people aged between 14 and 32 who were arrested on suspicion of supplying a class B drug have been bailed.
Chief Insp Mick Lillico, of Northumbria Police, said: "This drug has caused a severe adverse reaction to a number of people causing them become extremely unwell and require hospital treatment. One boy remains in hospital.
'New drug'
"We are working closely with Gateshead Council's public health department to ensure all pupils and young people in general are fully aware of the dangers and the serious risk that drugs pose."
Gemma Clifford from Platform, the young people's drugs and alcohol service for Gateshead, added: "Mephedrone is a relatively new drug and its effects are still being researched.
"However, as more reports come through about its side-effects, which range from vomiting and fits to heart damage and mental problems, it's becoming clear how unpredictable and highly dangerous this drug is."
Mephedrone - also known as meph, MCAT, Meow and Bubbles - is a white powder often sold online as plant food.
It is a class B drug, meaning those caught in possession could face conviction and a possible five-year jail term. The maximum sentence for dealing or trafficking the substance is 14 years.