Newcastle Castle reopens after £1.6m revamp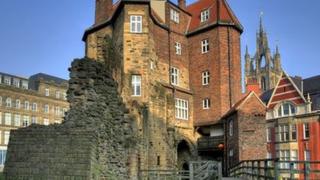 Newcastle's medieval castle has opened to the public after undergoing a £1.6m refit.
The Heritage Lottery Fund cash was spent on restoring the Grade I listed Scheduled Ancient Monument.
The building has now opened as an educational centre with digital exhibitions charting the city's history.
The castle is linked to the Black Gate which was added to the site by Henry III in the 13th Century.
It later became a merchant's residence and then, in the 19th Century, a slum tenement.