Fire-ravaged Cowpen Crematorium 'closed for months'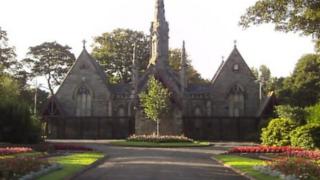 Northumberland's only crematorium will be shut for several months after it was gutted by fire, the council has said.
Equipment at the Cowpen Crematorium, Blyth, was badly damaged in the blaze on 12 March.
Almost 80 planned services have had to be cancelled, and funerals rebooked in Newcastle and North Tyneside.
Funeral directors have said families face delays and long trips to other busy crematoria while repairs take place.
'Significant' damage
Affected families are also being given £672 to help re-arrange cremations, the council said.
North Tyneside Council said it had booked an extra 30 services this week and the West Road facility in Newcastle said it had also created additional funeral slots.
Charles Dowson, funeral director at H Duckworth, in nearby Cramlington, said the closure had caused "a lot of upset".
"Some families have said they would delay funerals for three to four weeks to get Blyth only to be told they would have to go elsewhere," he said.
"But it can't be helped."
A statement from the county council said the severity of the fire had caused "significant structural damage" to the rear of the building, and the cremation equipment itself had also been badly damaged.
"It is likely that the facility will therefore be closed for several months," they said.
The council said it would release a timeframe for repairs once the full extent of the damage is understood.
Burials are still taking place at Cowpen Cemetery although services are having to be performed at nearby churches, the council confirmed.
The cause of the fire is not yet known.