Rothbury landslip: Repairs begin to damaged road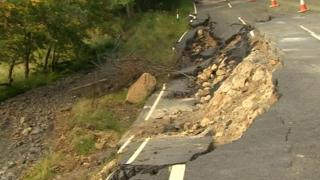 Work has begun to repair a Northumberland road damaged by a landslip more than two years ago.
A section of the B6344 at Crag End in Rothbury disappeared in the incident on Boxing Day 2012.
The road, one of the main routes into the town, has been closed ever since, causing lengthy diversions.
A £9.1m project to reinstate the road, strengthen surrounding earthworks and construct a retaining wall is expected to last about six months.
A spokesman for Northumberland County Council said: "This project has taken a great deal of time to reach this phase, given the complexity of the site.
"A big part of the process has been understanding what is taking place 30 to 60 metres underground.
"By gathering detailed data on this it has allowed us to develop a robust solution that we are confident will stand the test."
The council is contributing £4m to the scheme, with central government providing the rest.