Beamish Museum unveils 1950s replica homes finalists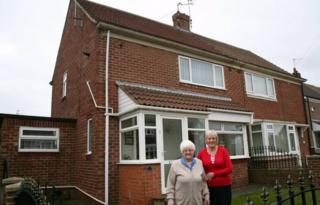 Nine houses in the north-east of England have been chosen for the chance to be rebuilt at a museum.
Beamish in County Durham appealed for semi-detached houses to use as a design base to replicate at a new attraction.
Built between 1950 and 1959 as social housing, the nine selected finalists were people's childhood - or current - homes.
The museum's project officer Geraldine Straker, said each of the houses had a "unique and wonderful" story.
The house will be replicated rather than rebuilt brick-by-brick like the properties in the older parts of the museum.
Linda Gilmore and her mother Esther Gibbon nominated their house in Redhouse Estate, Sunderland.
'Centre of happiness'
Ms Gilmore said: "This house has been a major part of my life and the heart of my whole family's happiness.
"My mother still lives in the house at the grand age of 92 and it has been her pride and joy since moving into the 'Sunshine Houses', as they were called, as a new build in 1952.
"We would be delighted to see our family home as part of the living history at Beamish, informing the future generations, even after we have gone.
"It's been a centre of happiness and love."
The 1950s-style development, costing £10.75m, will also include a cafe, shops, police house, cinema and recreation area.
The public can now vote for the winner, which will be announced at the beginning of April.