Tipu Sultan murder: Police release details of motorbike men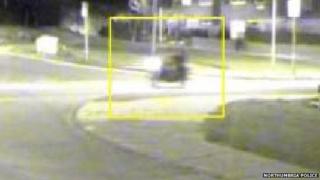 Police have released CCTV images of a motorbike believed to have been used in the fatal shooting of Tipu Sultan.
Mr Sultan, 32, was found at the back of the Herbs n Spice Kitchen in Lake Avenue on Tuesday night.
Two men riding a large red performance style bike with a black seat were seen leaving Lake Avenue straight after the shooting.
The bike was seen heading along Lizard Lane towards Whitburn and Sunderland at 21:55 BST.
South Tyneside Superintendent Sav Patsalos said: "The CCTV footage was taken in the minutes after Tipu Sultan was shot and we believe that this is the two men who are responsible for his murder leaving the scene.
"From the footage you can clearly see the two men on the bike, both are wearing helmets.
"We need to speak to anyone who saw these men and this bike before or after the incident."
Northumbria Police said they believed the killing was pre-planned.