Alauna Roman fort at Camp Farm bought by trust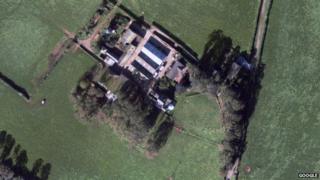 A derelict farm which houses a Roman fort at the western end of Hadrian's Wall has a new owner.
The North of England Civic Trust (Nect) is now looking at ways to open Camp Farm, site of Alauna Roman fort, to the public.
They bought the farm near Maryport from the Hadrian's Wall Trust which closed due to a loss of funding.
Graham Bell, Nect director, said the farm marked the western edge of the Roman empire.
He said: "Everyone has heard of Hadrian's Wall but Alauna is still largely Maryport's secret.
"Our first question is how to share that secret so everyone gains, especially the residents and schoolchildren on its doorstep, and West Cumbria and the wider world."
The Hadrian's Wall Trust had previously unveiled plans to turn the farm into a visitor attraction, but the scheme was shelved after the trust hit financial difficulty.