Tipu Sultan murder: Police rule out race motive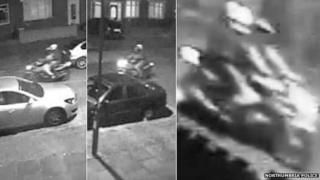 Police have ruled out race as a motive for the fatal shooting of a man outside a Tyneside takeaway.
Tipu Sultan, 32, was found with a single gunshot wound, on 7 April, at the back of the Herbs n Spice Kitchen in South Shields where he worked.
New CCTV images show two men heading away from the scene on a motorbike, moments after he was gunned down.
A 35-year-old Newcastle man was arrested on Sunday in connection with the murder and later released on bail.
Mr Sultan was shot at close range, in what police believe was a planned killing. He was treated by paramedics but died at the scene.
His family has run the restaurant in Lake Avenue for more than a decade.
Police believe the getaway bike - a large red, performance-style machine - headed towards the Whitburn and Sunderland areas.
A Northumbria Police spokesman said: "There is nothing to suggest that his killing was in any way connected to his race, religious beliefs or because of his nationality.
"We do not believe there is any risk to any other members of the public or any communities within South Tyneside.
"CCTV footage taken from Lumley Avenue and Lake Avenue show the motorbike at around 9:58pm, moments after Tipu Sultan was shot and killed.
"The bike left Lake Avenue, headed onto Lizard Lane before leaving the area towards Whitburn and Sunderland.
"We believe that the incident was planned and that Tipu was specifically targeted.
"We've kept a visible presence in the Lake Avenue area since the incident in order to reassure local residents and businesses.
"We are supporting Tipu's family at this very difficult time and our thoughts continue to be his family and friends."