Track work closes Tyneside Metro bridge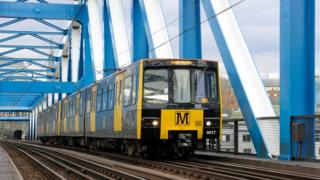 Metro tracks running across a Tyneside bridge are being replaced.
Work on two 400m stretches of line over the Queen Elizabeth II bridge over the River Tyne got under way earlier and will continue on Sunday and next weekend.
Nexus, which owns and manages the network, said it was the first time they had been replaced since the bridge was built in the late 1970s.
Buses are replacing services between Monument and Heworth.
The work is part of the £389m Metro: All Change programme, which involves the modernisation of trains and stations as well as tracks, overhead lines and signalling systems.