Durham river deaths: Breathalyser scheme introduced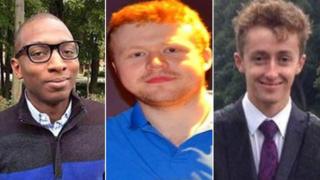 A new breathalyser scheme is being introduced in Durham to improve public safety following the deaths of three university students in 18 months.
Sope Peters drowned in 2013, Luke Pearce died in 2014 and Euan Coulthard in January. All had been out drinking.
The pilot scheme, drawn up by the City Safety Group, will see breathalysers used to test drinkers before they are allowed in pubs and clubs in the city.
Only those who are "vulnerable" and "intoxicated" will be tested.
The three-month trial is being carried out at six venues.
Andy Hughes, chairman of the city's pub watch, said: "Licensees in the city are willing to try anything to help people keep themselves safe.
"But we're not testing everybody because we understand people like to have an alcoholic beverage when they come out to relax and socialise."
Since the deaths, some Durham University students have taken up roles as volunteer wardens, and measures including the provision of late-night taxis have been introduced.
A safety review by the Royal Society for the Prevention of Accidents recommended isolating access to the river corridor with fencing or high gates and improving lighting.
The City Safety Group includes Durham County Council, Durham University, the Students' Union, police and Durham Cathedral.