Tipu Sultan murder: Hundreds attend funeral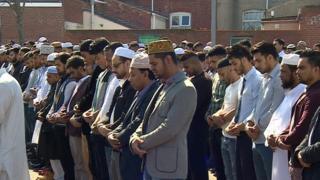 Hundreds of people attended the funeral of a man who was shot dead outside a South Shields takeaway where he worked.
Tipu Sultan, 32, was found with a single gunshot wound outside the town's Herbs n Spice Kitchen on 7 April.
Two men were captured on CCTV leaving the scene on a motorbike after what police have said was a planned attack.
About 800 people gathered at the Sunderland Bangladeshi Centre for the open air funeral before a burial service at the town's Seaburn Cemetery.
Syed Khalid Miah Olid, chairman of the centre, said: "The entire Bangladesh community of the North East is very concerned.
"We have seen his young children today and they are still waiting for their dad to come back home.
"This killing has been very bad news for the Bangladeshi community and we hope we get justice for Tipu Sultan and his family.
"We don't know why this has happened but we do not believe there is anything racial involved.
"I have lived in the North East for 42 years and nothing like this has ever happened before."
Hamid Jomah, who was a friend of Mr Sultan's, added: "He was a good man. It is really sad and all the youngsters here are devastated.
"There doesn't seem to have been any motive for this."
A 35-year-old Newcastle man has been arrested and bailed in connection with the death.