Janet Brown murder: Air rifle found at Donald Graham's home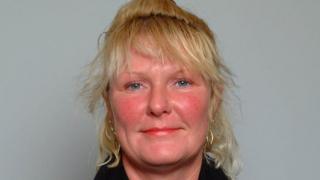 An air rifle has been found hidden inside a wall at the former home of a man who killed his wealthy lover to fund a lavish lifestyle.
Donald Graham, 60, was jailed for life in June 2014 for the murder of Janet Brown, of Hexham, in 2005.
The body of Ms Brown, a property developer, has never been found.
Northumbria Police said the rifle was discovered by a builder carrying out renovation work at the building in Intake Head, Sparty Lea, on 23 March.
A spokesman for Northumbria Police said: "The air rifle was seized by police and sent away for forensic testing.
"Further searches were carried out of the building an no other weapons were found."
The trial at Newcastle Crown Court heard that after Ms Brown went missing up to £400,000 was transferred from her account to Graham's in the space of a year.
It was only when a building society clerk raised suspicions over a signature on a document that a fraud investigation began.
A missing persons inquiry, and eventually a murder investigation, followed.
At sentencing, Graham, of Sparty Lea, was told by a judge he would not be eligible for parole for 32 years.