Ryan Charlton A1 crash protest convoy tribute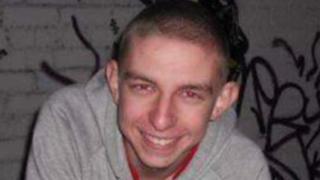 About 50 cars are taking part in a "peaceful" protest convoy on the A1 over claims the friends of a crash victim were treated "appallingly".
Ryan Charlton, 23, died in a crash near the Angel of the North on 19 April.
Two days later his friends drove past the crash site in a convoy as a tribute and claim police pulled them over and issued fines.
Now they are driving between Morpeth and Leeds in protest. Police said it was looking into the claims.
A Northumbria Police spokeswoman said officers were trying to ensure the latest convoy caused "minimal disruption".
The group of friends said on Facebook it was "disgraceful" they had been issued with fines for taking part in the "rolling convoy".
Ch Insp John Heckels said: "As car enthusiasts they do not want to cause any problems for the general public and are looking to hold a peaceful and law abiding protest similar to other protests that have been held on the country's roads."
Already affected by Bank Holiday traffic and roadworks, the A1 would be busier than normal between 16:00 and 17:00 BST as the group heads south and between 21:00 and 22:00 BST as it returns north, he said.
A 31-year-old man arrested in connection with the collision in which Mr Charlton, of Gateshead, died has been released on police bail.